THE ULTIMATE VOICE TRAINING KIT INCLUDES...

SOVT STRAW + 3MM APERTURE REDUCER
Our revolutionary original SOVT Straw with a 3mm aperture reducing attachment and telescopically adjustable body.
VARIABLE APERTURE REDUCING ATTACHMENT
A new variable resistance attachment, ranging from 0.5mm to 4mm in diameter (with control dial not shown).
WATER THERAPY ALIGNMENT ANGLE
An angled piece designed to better align the head/neck for water resistance voice therapy - no more water spills!
COMFORT MOUTH PIECE / DR. VOX MASK CONNECTOR
Sensory-aware silicone comfort mouth piece, helps seal the lips to stop leaking air, and also doubles as a coupler for the Dr. Vox mask.
ALL THE FEATURES THAT YOU LOVE FROM THE ORIGINAL SOVT STRAW, JUST BETTER

EVEN SMALLER DIAMETERS, MORE RESISTANCE MODES + ADDITIONAL FUNCTIONALITY!

Variable from 1 cmH2O - 30+ cmH2O* resistance by using the VARA

Control the elongation of your vocal tract for resonance boosts
Change the diameter from 9mm to 0.5mm to modify the resistance

Durable food-grade materials, made to last a life-time

Super portable design, easily train wherever you are

Experience transformations from the moment you start

Engineered specifically for your vocal development

Modify the attachments to change functionality
WHICH VERSION IS RIGHT FOR YOU?

The Complete Kit contains: SOVT Straw, 3mm ARA, Compact Case, Telescopic Cleaner, plus all the items in the Pro Kit - Variable ARA, Water Therapy Angle, Mouth Piece, Material Case.
The Upgrade Kit version only contains the Pro Kit attachments and does not include the SOVT Straw. If you have an SOVT Straw already, you only need the Upgrade Kit.
The SOVT Straw has been engineered to enable you to make live moment-to-moment adjustments to the way you train your voice, ensuring you always work with maximum efficiency.
✅ Helps you sing with ease

✅ Recover tired and fatigued voices

✅ Gain vocal power without straining

✅ Helps you to increase your vocal range

✅ Gives your vocal folds a protective 'air cushion'

✅ Achieve faster and more efficient vocal warmups

✅ Adjusts your breathing for relaxation and anxiety reduction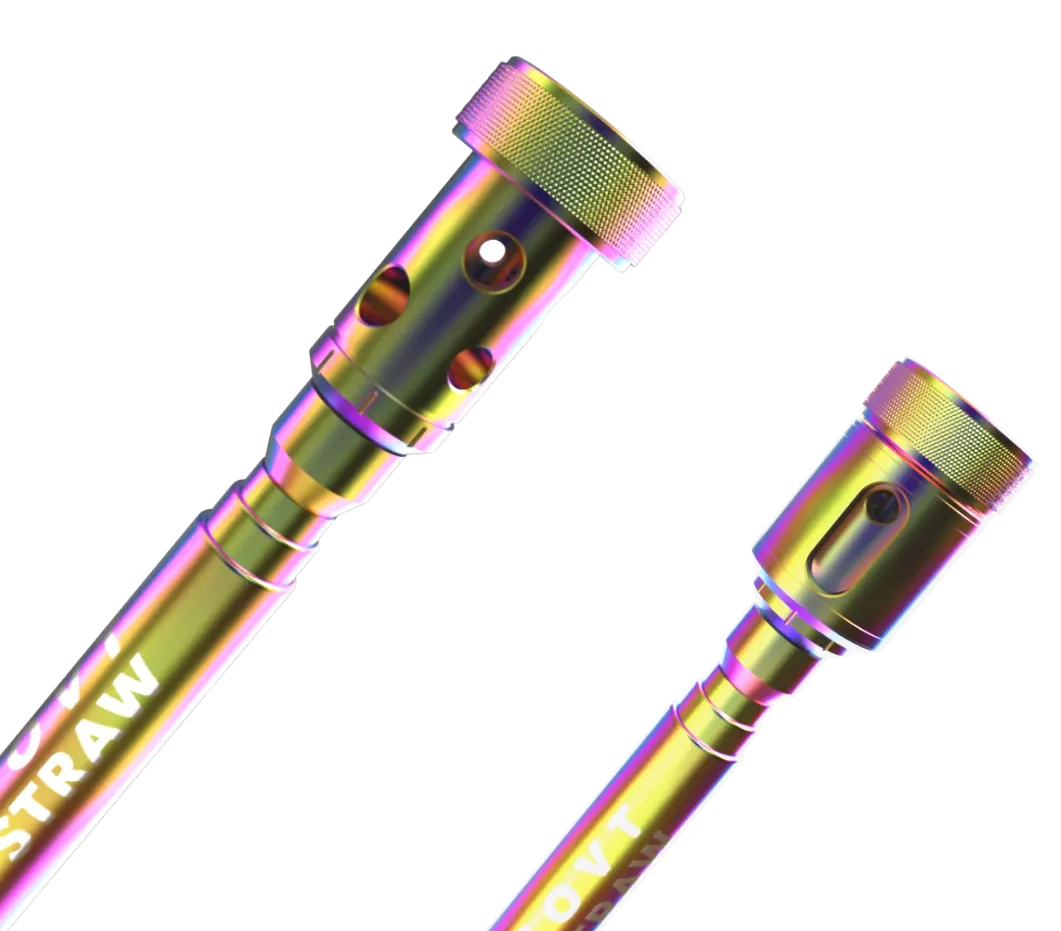 VARIABLE APERTURE REDUCING ATTACHMENT
Our most advanced attachment - the VARA has been designed by aerospace engineers to maximise your vocal development. With 8 new diameters in one device ranging from 0.5mm to 4mm, affixed to our original telescopically adjustable SOVT Straw, you'll gain access to 24 new resistance settings. Simply select to your desired setting, or dynamically shift resistances throughout a vocal task by twisting the control dial indicated. We've even added some textured sections for you to easily grib to twist.

WATER THERAPY ALIGNMENT ANGLE
A simple, yet powerful attachment that can be threaded directly onto your SOVT Straw - designed specifically to help you better align your head/neck when using your SOVT Straw with water. This'll help you maximise the therapeutic benefits of water bubbling, generating the much loved "massage effect" on the vocal folds with the power of AC Resistance. Plus, no more water spills as everything is angled perfectly!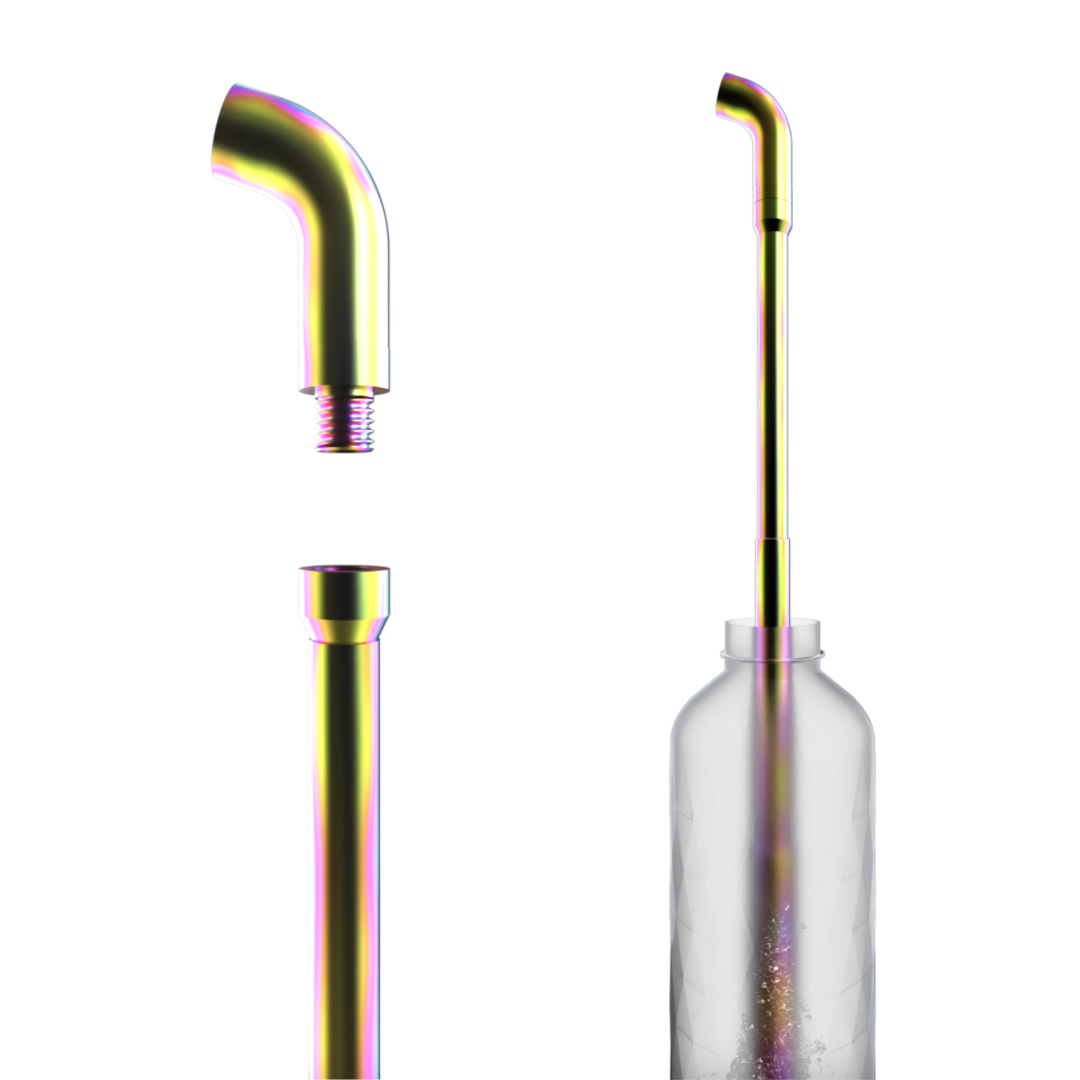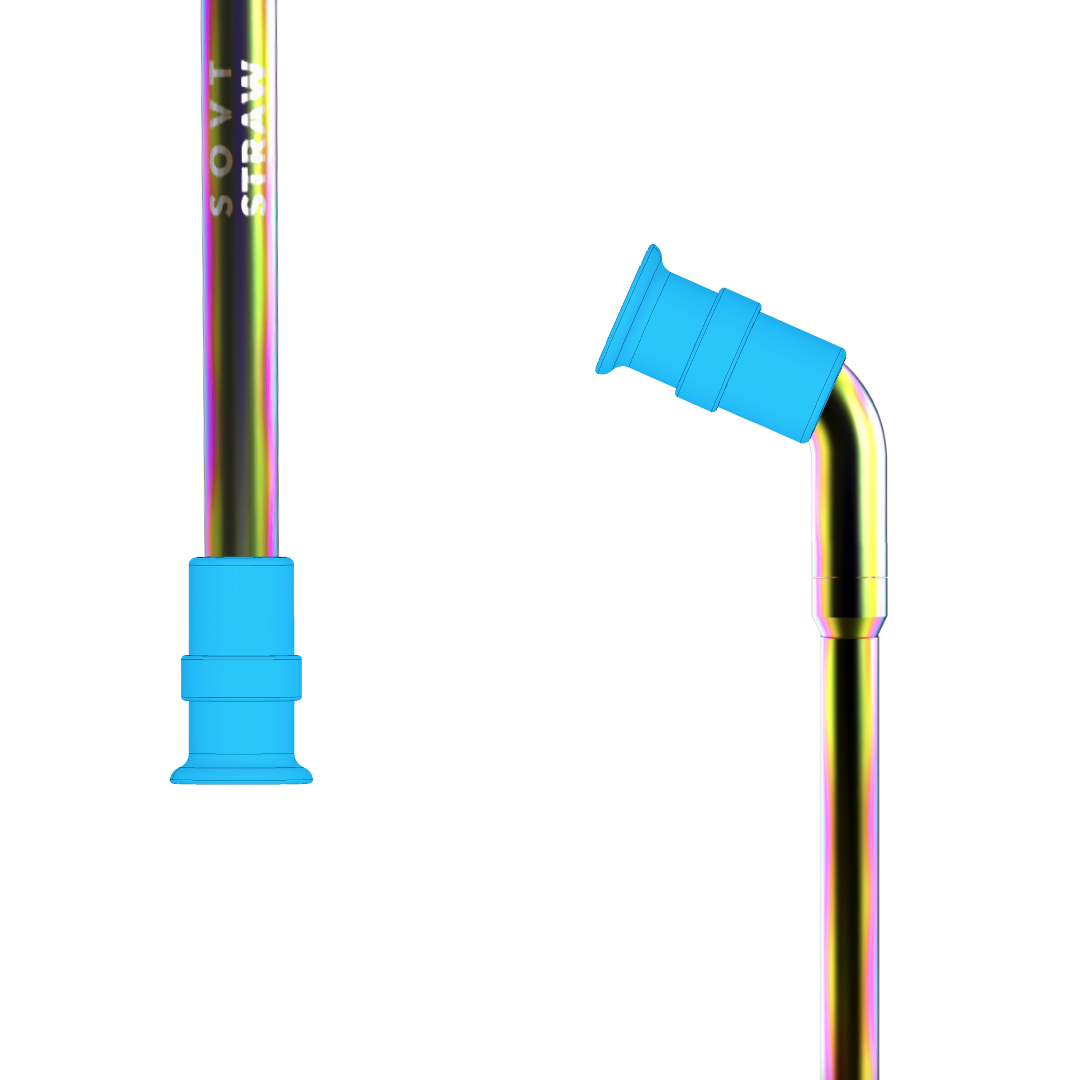 COMFORT MOUTH PIECE / DR.VOX MASK CONNECTOR
Made from soft-touch medical grade silicone, our sensory-aware comfort mouth piece helps seal the lips to stop leaking air, as well as prevents sensory issues related to the lips/teeth contacting metal. It has a flared end to form a better grip with the lips, and features an easy push-fit design so you can use it with any end of your SOVT Straw, or with your WTAA. Plus, the mouth piece has been designed in such a way that it also doubles as a coupler for the Dr. Vox Mask.
FROM AEROSPACE ENGINEERING TO VOICE SCIENCE

Elegantly designed by aerospace engineers to maximise your vocal development. The SOVT Straw has been constructed from food-grade 304 Stainless Steel, with smooth sliding adjustable 3 stage telescopic body, interchangable apertures, as well as a threadable flared end for new attachments. Not to mention the beautiful anodized spectral effect, giving the entire device a unique space-age look, and combining our love for space-tech with voice science.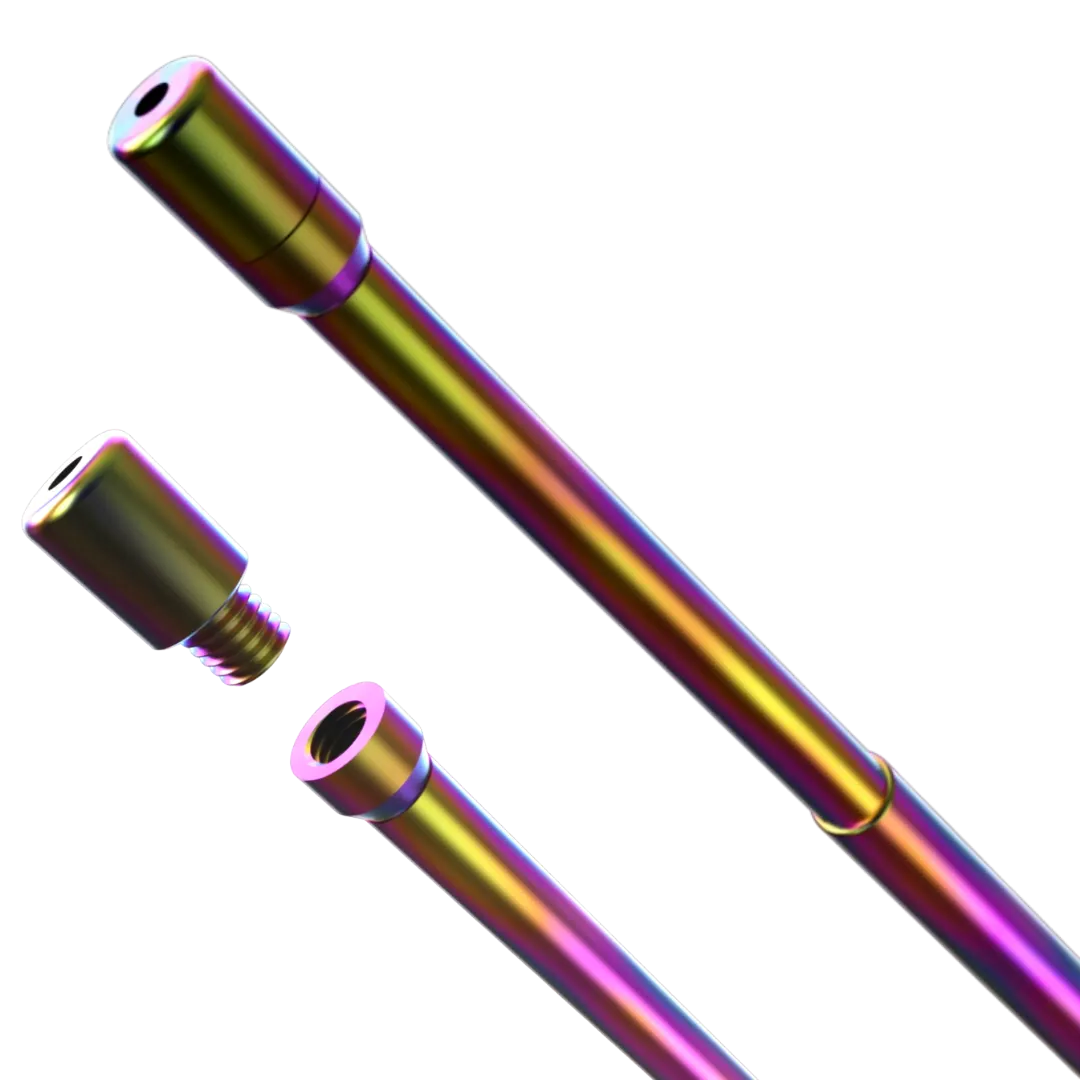 Our vocal development tools are used by Singers and Professional Voice Users from over 40 countries around the globe, as well as by Broadway, West End, and Television/Film Stars; from shows like Les Miserable, Wicked, Hamilton, Frozen, Phantom of the Opera, Chicago, and so many more!
LET THE POWER OF THE SOVT STRAW UNLOCK YOUR VOCAL POTENTIAL

We've harnessed some incredible tricks of physics in order to help you recycle your vocal output, allowing you to train more efficiently and to sing with less effort.
Our patent-pending singing straw can be used in different ways to ensure you're always getting the right resistance for your unique voice.
We have spent 1000's of hours researching, developing, and designing our vocal development tool using state-of-the-art technologies!
"Straw phonation not only lowered the onset of normal voice, but also elevated the onset of chaotic voice, indicating a better voice economy and voice control. Moreover, the improved phonatory range demonstrated that straw phonation had the potential to prevent voice users who have high voice demand from voice fatigue and vocal damage." Kang et al., 2019

"Narrowing the vocal tract increases air pressure above the vocal folds, keeping them slightly separated during phonation and reducing the impact collision force" ASHA

"The straw phonation exercise caused positive effects, seen upon voice self-assessment, indicating an easier and better voice upon phonation." Costa et al., 2011

"We think Semi-occluded Vocal Tract exercises are brill. They have a solid of research behind them and have been helping singers clinically for years. Bringing these into your daily warm up routine, or even more than once per day, will help you to warm that uncooperative little monkey into a beautifully functional instrument in half the time." iSingMag, 2016
Still not sure how the SOVT Singing Straw can benefit you? For World Voice Day 2021 we asked some of our customers to share their honest thoughts. Watch the video to explore their stories.
We absolutely love hearing your success stories. Please continue to share them with us by leaving a review or posting on social media and tagging us in!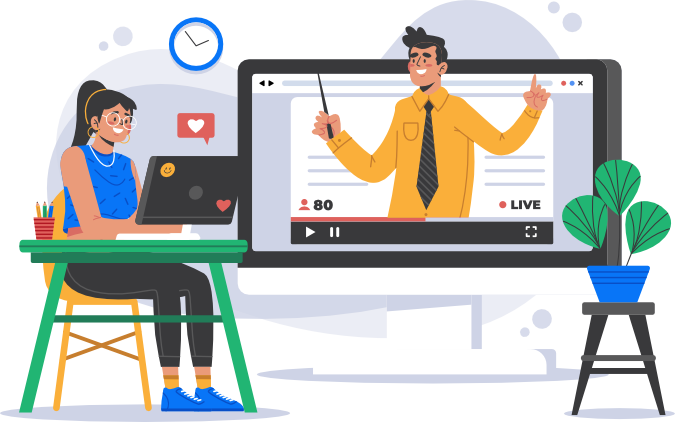 COMPLIMENTARY ONLINE TRAINING

Your SOVT Straw comes with a range of complimentary training content. You'll get instant access to 30+ minutes of videos, explainers, exercises, piano tracks, and more! We also have a range of additional free content on our YouTube & Spotify channels.
And, you're also invited to our free weekly workshop to learn how the SOVT Straw can benefit you!
BECOME A ROCK-STAR WITH OUR HELP!

Simply incorporate your SOVT Straw into your daily vocal training routine, and easily create new habits, build muscle strength, coordination, and efficiency that lasts a lifetime.
You can truly build the voice you want with our range of professional vocal development tools and resources. You can eliminate voice cracks, achieve better vocal fold closure, avoid strain and vocal tension, improve your breath control, and sustain notes for longer and more efficiently. All from one device.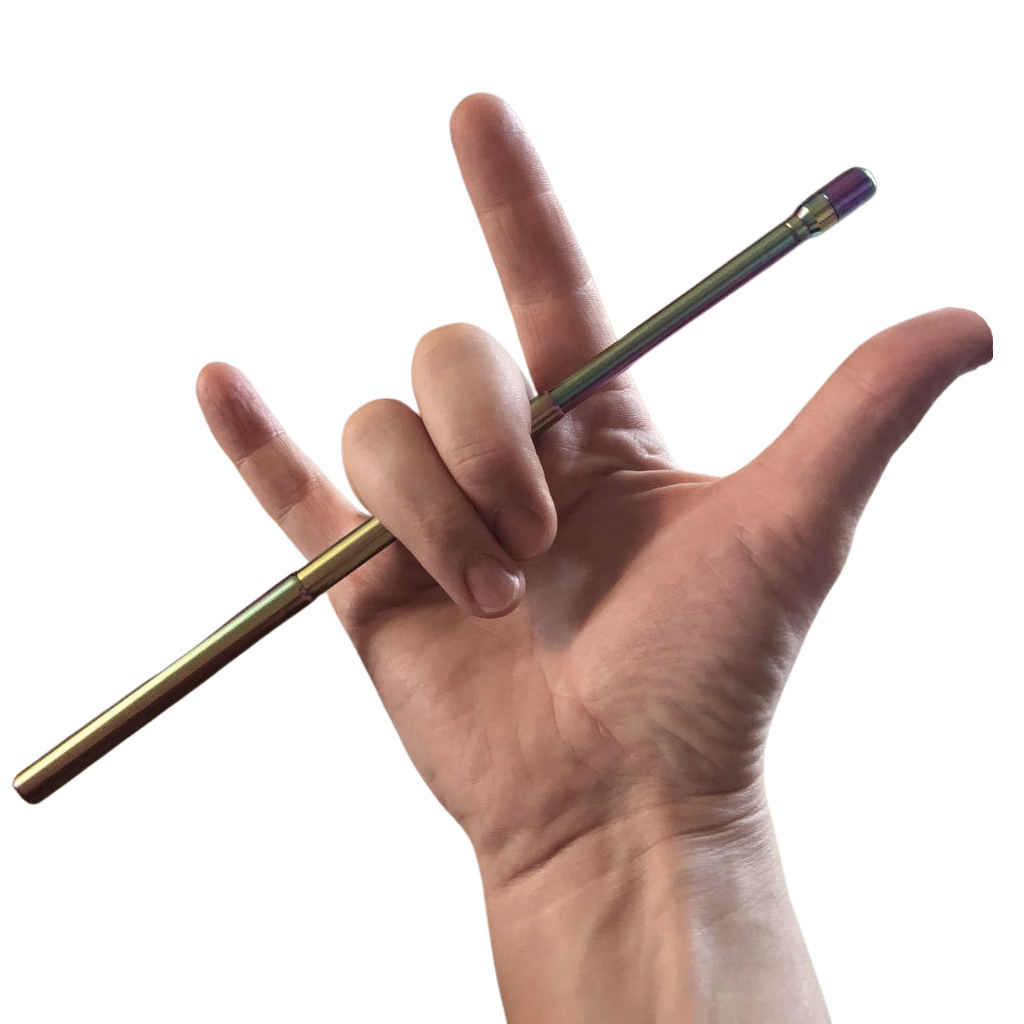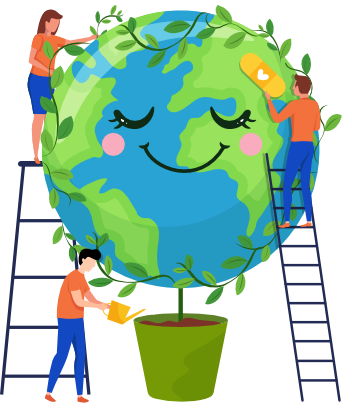 CONSCIOUS ABOUT SUSTAINABILITY

We care about the planet too, so by investing in a sustainable, reusable product, we have eradicated the need for other, non-sustainable training tools, such as generic plastic or paper straws, in turn helping in the fight to prevent plastic from ​polluting our oceans and destroying our planet! Plus, we're proud to say that all our packaging is made from recycled/recyclable and biodegradable materials - and everything is plastic free!
READ WHAT OUR CUSTOMERS ARE SAYING

A Gym Equipment For My Vocal Cords
I enjoy the use of the straw pro. It allows me to adjust according to the necessary difficulty. Having multiple adjustments helps to treat the straw like the training sessions are a game with difficulty levels.
I enjoy the tool that allows me to avoid water spills during vocal therapy. It feels natural and a lot less forced.
Thank you Rayvox, I hope to have a huge vocal range with this metallic baby of mine, LOL.
Transformative!!
I have dealt with bad vocal habits for quite some time, and I have to say that after using the SOVT Straw for only a few months my voice has changed dramatically for the better. In combination with breathing exercises (Farinelli), my voice is much more free and resonant. So many good things to say and I haven't even begun to use all the resources available on the website. Using the different resistance configurations, along with the angled water attachment I have truly experienced what a free voice feels like in no time!! That may be the most beneficial aspect of this product; the short amount of time it takes to truly understand what vocal alignment truly feels like! Now it is simply a matter of daily reinforcement of the better habits, and strengthening the voice via breathing and vocal exercises. I am SO happy I have found this wonderful tool!
The All-In-One For Anyone
This is an expertly designed device for anyone who wants to strengthen/improve/rehab/enhance anything about their speaking or singing voice. It is very reasonably priced, considering how many different settings it's capable of. I enjoy the convenience, the fact that it's light to hold, and, bonus, it's so nice to look at. I would recommend this RAYVOX SOVT Straw Pro kit to everyone!
Amazing Tool for Singers
I'm an avid user of SOVT tools. The problem is that most products are a "one size fits all" approach. The SOVT Straw Pro fixed that issue for, offering dozens of back-pressure options, allowing me to dial-in a perfect fit for my voice.
It is small and convenient enough to fit in my pocket, so I
always have it with me. And with the various attachments I am set to use by itself, with water, and even attached to a MaskVOX.
I also loved the detailed, colorful booklet that came with the kit. It explained how to use the product well and I've referred to it often. It's like my mini-manual:)
Loved the product so much that I gifted it to a singer friend who had dealt with a granuloma in the past.